A Guide to Leeuwarden will organise the Leeuwarden Street Art Tour every last sunday of the month in Dutch. Twice a year we will also offer an English spoken tour (we haven't planned one for 2020 yet). You can also book a private Street Art Tour. You can sign up below!

Join A Guide to Leeuwarden's Street Art Tour to experience Leeuwarden in a whole new way, looking beyond the main attractions to discover art on street corners, signposts and alleyways. Our Street Art tour incorporates various illegal and legal art forms in public locations. You will witness some of the street art Leeuwarden has to offer, from historic wall advertisements to stickers, graffiti and murals.
Start: This walking tour starts at 13:00 at the Oldehoofsterkerkhof, the square in front of the Oldehove. Our guides wille be waiting for you next to the entrance of Obe. The walking tour will take about 1,5 hours.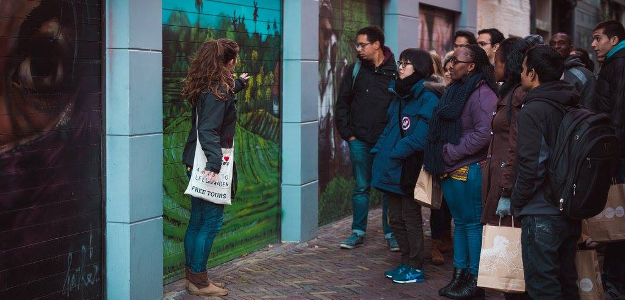 The public Leeuwarden Street Art Tour is a Free tour. But if you liked the tour, you may give the guide a donation according to your own budget. Our public tours are mosly in Dutch, but sometimes we also arrange a second guide to offer an English Tour.
It is also possible to book the Street Art tour exclusive for your own company. We can do the tour on any day. Would you rather do another tour? Check the other tours we offer!
If you've got any questions, read our frequently asked questions or just fill in the contact form and we will get back to you asap.
Book/ sign up Street Art Tour: 
On Tripadvisor you can read what other traveller's thought about our tours: