A Guide to Leeuwarden will organise the Leeuwarden Street Art Tour every last sunday of the month in Dutch. You can also book a private Street Art Tour in English or German.
Covid19 Update: Since October 15th 2020 we are no longer allowed to do public walking tours. We are only allowed to do private tours with a max of 3 visitors (excluding children under 13). We will adhere to the following agreements with our guests. If you are not able to visit Leeuwarden in person, you can still book a virtual tour.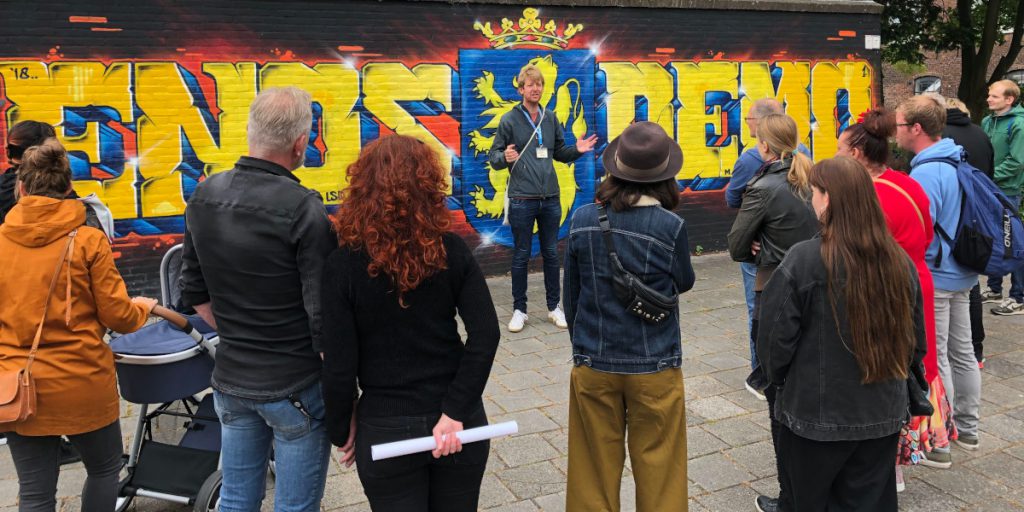 Join A Guide to Leeuwarden's Street Art Tour to experience Leeuwarden in a whole new way, looking beyond the main attractions to discover art on street corners, signposts and alleyways. Our Street Art tour incorporates various illegal and legal art forms in public locations. You will witness some of the street art Leeuwarden has to offer, from historic wall advertisements to stickers, graffiti and murals.
Start: Our public Street Art tour starts every last Sunday of the month at 13:00 at the Oldehoofsterkerkhof, the square in front of the Oldehove (the leaning tower). Our guides wille be waiting for you next to the entrance of Obe. The walking tour will take about 1,5 hours.
Language: Our public Street Art Tour is in Dutch. But it is also possible to book a private tour in English or German.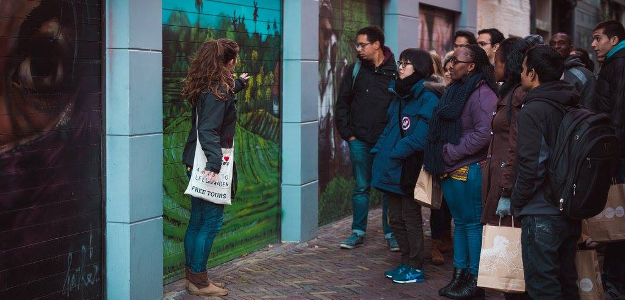 Costs: The public Leeuwarden Street Art Tour is a Free tour. But if you liked the tour, you may give the guide a donation according to your own budget. For 50 euro per hour you can also book your own guide.
Private tours: It is also possible to book the Street Art tour exclusive for your own company. We can do the tour on any day. We charge fixed rates for private tours of 50 euro per hour. We mostly do tours of 1,5 hour for 75 euro. But longer or shorter tours are also possible. These prices are including local taxes. You can pay our guides cash on the spot or we can send you a bill beforehand. We have a maximum of 15 people per guide, but we can arrange more guides if your group is bigger.
If you've got any questions, read our frequently asked questions or just fill in the contact form and we will get back to you asap.
Book/ sign up Street Art Tour: