Leeuwarden is the capital of Friesland. Located in the northwest of the Netherlands, just 1,5 hours drive from Amsterdam. It's one of the Frisian 'Elfsteden' (historical eleven towns). A city with an old historic city centre that has all the characteristics of a typical Dutch city with canals, bridges, a weigh house and many houses from the 17th century (the Dutch golden age).
It's the birthplace of graphic artist M.C. Escher, double spy Mata Hari, Rembrandt's wife Saskia van Uylenburgh and it's the former residence of the Nassau family, the ancestors of the current Dutch king.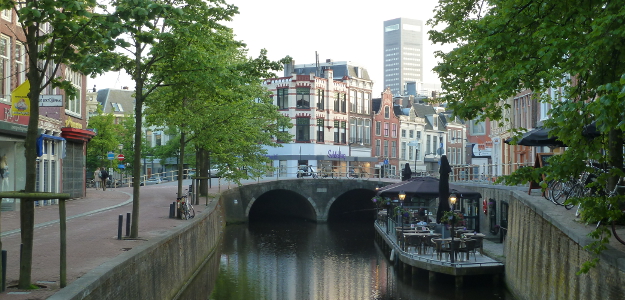 With a population of 96.000 it's big enough to call itself a city, but it mostly feels like a village. And that's not a bad thing in our opinion. It's easy to get to know people and get things done. Everything here is at a walking distance and we've never heard of the word over-crowded. Still, there is enough happening in this city and there is always something to do. Three Universities of applied sciences supply the city with a lively input of young people.
7 minutes of history
The Historic centre Leeuwarden made a nice video in which they tell the 'Story of Leeuwarden' in 7 minutes (click here to watch it on Vimeo).

A royal city
The Dutch Royal family descents from the Frisian Nassau family and they lived in Leeuwarden for many years. Traces still remain: The Stadhouderlijk hof was their palace, the Prinsentuin their leasure garden and the Jacobijnerkerk is where they went to church. Maria Louise von Hessen Kassel (1688-1765) was the last Nassau Princess who lived in Leeuwarden. The Princessehof, now a really good ceramics museum, was where she lived after she retired.
A city with many names
The official Dutch name is Leeuwarden. But in Frisian it's Ljouwert and in the local dialect it's Liwwadden. But here it doesn't stop. Apparently there are more than 200 different names for this city. But what does this name mean? The second part, ward, means a man made mound. Which is also known as wierd(NL), warft(DE) or terp(FR). The first part probably refers to the old Germanic word hjeunjo, which translates itself to 'in the shelter of'. This makes sense because the old historic town of Leeuwarden was founded around three man made mounds. So the people here lived in the shelter of three man made mounds.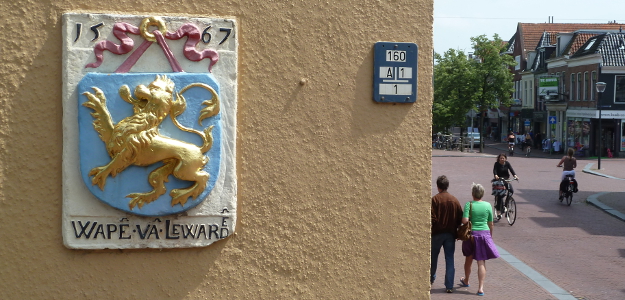 The coat of arms of Leeuwarden
The lion in the coat of arms refers to St. Vitus. A Christian man who lived in the time of the Roman Emperor Diocletian, who is remembered for his persecution of Christians. He fed Vitus to lions. But when Vitus made the Christian cross sign, the lions did not rip him apart but licked his feet. Yet, it did not end well for Vitus as he was burned in an oven. But Vitus became a Martyr and was declared a saint. Stories about St. Vitus were very popular in the middle ages. People loved to believe that if your faith was strong enough, you could even tame a lion. Unsurprisingly, he was always painted with a lion. The St. Vitus adoration also hit Leeuwarden. Vitus became the patronage saint of Leeuwarden, the oldest church at the Oldehove was named after him and the lion of St. Vitus found its way in the coat of arms.
On the wall of restaurant 'De Vrouwenpoort' you can find the oldest plaque that includes the city's coat of arms. It was made in 1567 and was originally part of a different building. The tail of the lion evolved in a funny way. As you can see on this example it's tail curls to the outside.The modern version has a tail that curls inwards. They started making this mistake in 1818 and from then on they proclaimed that this was the right version.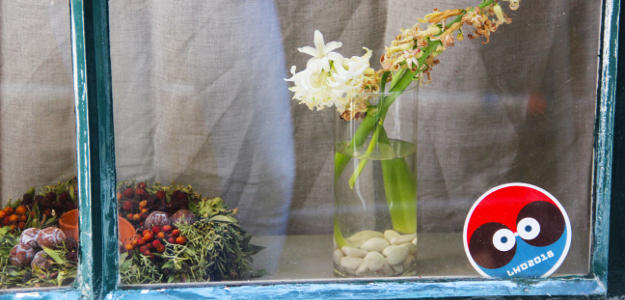 Leeuwarden 2018
In 2013 Leeuwarden was elected to become Cultural Capital of Europe in 2018. We beat the cities of Utrecht, The Hague, Eindhoven and Maastricht. The reason we won was that our plans were all bottom up and had a huge support of the mienskip (community). These are also big themes in all the big events that will take place in 2018 in and around Leeuwarden. Check the official website here.

How to act like a local
Forget the myth that Frisians can be rigid. Be open to them and they will be open to you. If you want to greet them just nod your head and say 'a goeie' (ah-goei-juh). That's the Leeuwarden way of greeting in the local dialect liwwadders, a mixture between Frisian and Dutch.
People in Leeuwarden, or in the north of the Netherlands in general, are really down to earth and they don't like to boast. If you tell them how beautiful Leeuwarden is, they will probably reply by saying 'it kin minder' or 'it kin nog wol wut wurde' meaning as much as 'it could have been worse' and 'maybe it can become something'. That's the local way of being positive.
If you find yourself in between the fans from the local football club SC Cambuur, don't mention sc Heerenveen. There is a big rivalry between them. SC Cambuur supporters don't even dare to pronounce that name, they just call it DKV, which is short for 'dertig kilometer verderop' (30 km further away).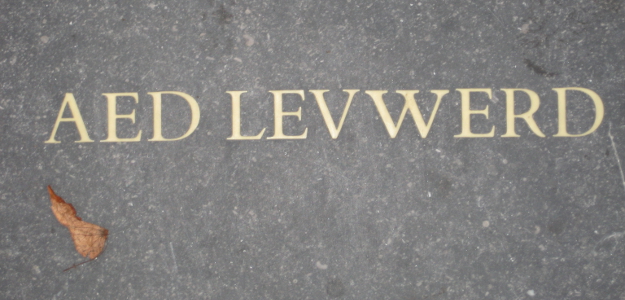 Language
Most people in Leeuwarden speak Dutch or the local dialect Liwwadders. Frisian is spoken by a minority here, despite the fact that Leeuwarden is the capital of Fryslân. In 1954 a huge battle, known as kneppelfreed, was fought on the Zaailand square to fight for the right to use Frisian. If you like to learn more about Frisian, head to Afûk. Like in any city you will hear other languages around you. German is probably the most other language that is spoken in the city due to tourists and a relative large population of German students that study here.
Leeuwarden is not a big tourist destination, so people are not that used to foreign tourists. So the whole infrastructure regarding foreign tourist is just not that developed. You might encounter that there are hardly German or English translations available at museums. So always ask for a discount if they are not available. We really hope these things improve. That's also the reason why this website is in English, because we also want to reach people who can't speak Dutch. Because it isn't our mother language it's not flawless, but we do try our best.
Go back to All things to See & Do in Leeuwarden or continue with 10x Funshopping. Or join one of our Free Walking Tours to find out even more about Leeuwarden!