These are the coffee houses, tea rooms and lunchrooms in Leeuwarden where the locals get their lunch, caffeine and high tea.
Brownies & Downies is one of the nicest places to have lunch. They mainly work with people with mental disabilities. Sometimes your order takes a little longer, but that is more than made up for by the friendly staff.

Barrevoets

  is a small lunchroom in the Kleine Kerkstraat, near the starting point of the Free Tours. An ideal place to have a cup of coffee before your walking tour starts. It's also the right place for delicious homemade cakes, lunch or smoothies. They also have the best Cappuccino in town here.
Location: Kleine Kerkstraat 41, Open: Tue, Wed, Fri & Sat: 10:00-18:00 Thu: 10:00-21:30 Sun: 12:00-17:00
Stek Leeuwarden is located at one of the most beautiful locations in Leeuwarden. Inside this old bridge keeper's house you have a view of our leaning tower while the boats sail by in the canal. Inside everything is cute and the food is only healthy and delicious. Location: Harlingersingel 2
Broodje Bewust  

  is the place to be to get a conscious and tasty breakfast, lunch or coffee in Leeuwarden. All products are biological or local and very tasty. Locatie: Groentemarkt 1-3, Open: maandag-vrijdag  8:00-18:30 zaterdag 9:00-17:30
For Banhs & Coffee you just have to get off the beaten track. But this Vietnamese lunch tent is worth it! A Banh Mi sandwich is highly recommended and the Vietnamese coffee with sweet condensed milk is also an experience. Location: Tuinen 23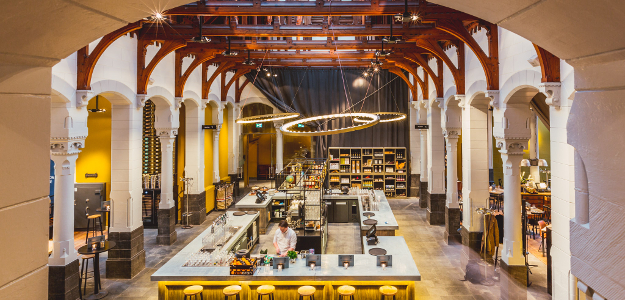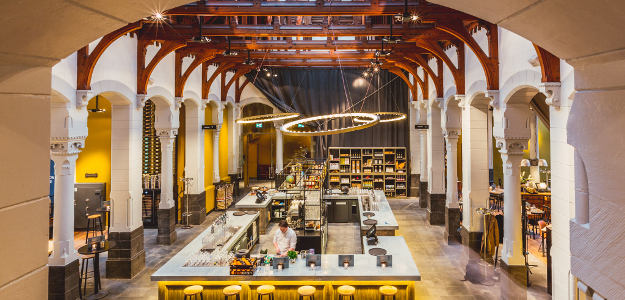 Grand Café Post Plaza  

is located in the former post office of Leeuwarden. While decorating this building they really had an eye for detail. In the sink you can find a big stamp and if you order tea, you will find your teabag in an envelope. Bravo! In this beautiful entourange you can enjoy your lunch. Staff is very friendly. You can also have dinner or come by for a beer or glass of wine in the Grand Café. Location: Tweebaksmarkt 27
Huize kwast is located on the Nieuwestad and has a beautiful terrace on the canal. It used to be one of Mata Hari's favorite places because her best friend Henriette Kwast lived here. Location: Nieuwestad 75
Brasserie Spiegelaar  

has a nice terrace on the canals of Leeuwarden. Enjoy your drink while the boats sail by and if there is no boat passing by, you also have the best view of the Waag from this terrace.Location: Nieuwestad 141,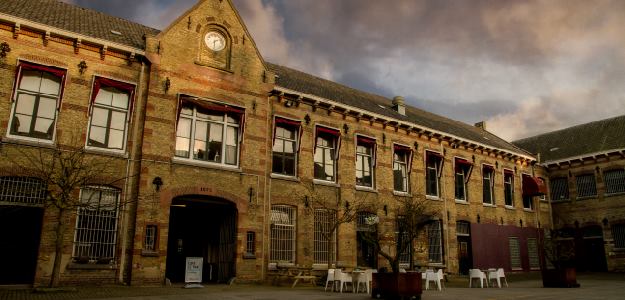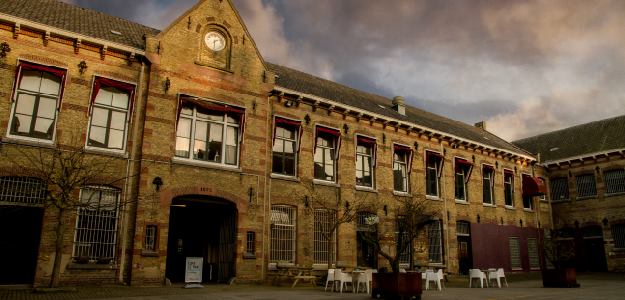 Café De Bak & Restaurant Proefverlof are both located in the old prison the Blokhuispoort. For a simple cup of coffee or a simple lunch, go to Cafe de Bak with terrace on the 2nd square of the prison. If you want a more extensive lunch, go to Proefverlof, here you also have a beautiful view of the water and in the summer you can sit here by the water. Location: Blokhuisplein 40 
De Walrus probably has the largest terrace in Leeuwarden. Location: Gouveneursplein 37
Ga terug naar de beste tips over Leeuwarden of kijk verder bij Funshoppen in Leeuwarden! Bekijk ook ons aanbod van stadswandelingen om de stad met een van onze gidsen te ontdekken!