Now that you're in Leeuwarden, you're wondering what to do? Well we wrote about the 10 best activities of leeuwarden for you.
Do a walking tour
The best way to get to know a new city is doing a walking tour. A local guide can not only tell you some beautiful stories but can also give you a lot of useful tips on where to go. We of course advise you to join one of the open free walking tours by A Guide to Leeuwarden. Every Saturday at 12:00 you can also join an English spoken Leeuwarden Free Tour. Besides the regular Dutch tours there is also a  Street  Art Tour. These walking tours are based on voluntary contributions.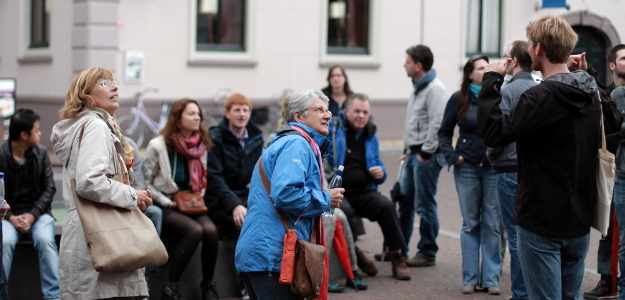 A view from above You can climb the leaning Oldehove tower from April to October (open: 13:00-17:00, entrance €3,50). From 28 June to 10 September you can also climb the tower of the Saint Boniface Church (Wed & Sat from 14:00-16:00, entrance €1,50). At 85m, it's the highest church tower of Friesland. If you'd rather take an elevator, visit the Achmea Tower. With 114 meter, the highest tower of Friesland. Every second Saturday of the month you can go up with an elevator and enjoy the view. Entrance is €3,00 and tickets are available at the Tourist Information / VVV.
Join an open flat boat!
Explore Leeuwarden with a view from the water and you'll get a whole new perspective of the city. You don't have to do any window shopping any more. Instead you can enjoy the tranquility of the water and the beautiful historical buildings from the old town of Leeuwarden that will appear above you. Between April and October, you can join an open boat tour through the canals of Leeuwarden. Stichting Praamvaren Leeuwarden offers multiple boat tours with a guide who tells stories in Dutch. Ticket are €5,00 and are available at the bookshop Van der Velde (Nieuwestad 57-59). Praamvaren Friesland's tours on request with a guide from A Guide to Leeuwarden! On request it is also possible to book the flat boat of Minse Dijkstra called Lytse Tolve.
Explore the canals yourself
Rent an electric open boat at GreenJoy, located at the Willemskade 1. Depending on the day and the time you can rent a boat from €15 to €25 an hour, with a minimum renting period of two hours and a deposit of €50. If you like more of a challenge, rent a SUP from the City beach. You can also rent a kayak from A.M. de Jong, near the Froskepôlle. If you rather want to see some nature, head to the Potmarge, a river that meanders through the city.
Visit the Blokhuispoort
Ever wondered how it is to be a prisoner? The former prison Blokhuispoort is open to the public and houses shops in former cells, a cafe and a music stage. You can also get a guided tour by a former prison guard. This tour is only available in Dutch however. The tours are organised every Saturday at 14:00 and 16:00. A guided tour costs €10,00 per person and includes a cup of coffee/tea and a piece of pie. The tours start at Café de Bak.
Go Ice-skating
Leeuwarden is the start and finish of the notorious Elfstedentocht (eleven city ice-skating tour). But due to our sea climate we don't get that many tough winters. The last time the Elfstedentoch was skated was in 1997! Luckily you can still ice skate in Leeuwarden for a big part of the year in the indoor Elfstedenhal. For €6,50 you can skate on a 400m track. You can also rent skates here in case you didn't bring them yourself. If you do get the chance to skate outside, do it!
Watch a film
Slieker Film is the arthouse cinema of Leeuwarden. It is located in the building of the Fries Museum on the Wilhelminaplein (aka Zaailand) and is primarily run by volunteers. The films they show here are art films and they are generally intended to have an artistic value, rather than to appeal the masses. If you'd rather watch big blockbuster movies, check Tivoli or Cinema. Films in the Netherlands are always shown in their original language with Dutch subtitles. If you want to know which films are on display check Mr. Movie.
A walking tour without a guide
If you'd rather walk by yourself you can also follow the poetry route. In the pavement of Leeuwarden you can find a lot plaque's with poems, there are 43 in total! Most of these poems are in Dutch or Frisian and one is in Russian. Unfortunately there is no English or German translation at this moment, so this activity is only fun if you understand Dutch.
If you want to discover Leeuwarden the culinary way, you can buy one of the books of WEareGRUTSK (in Dutch); the Friese Food Tour(€14,50 p.p.), Crimetour (€19,50 p.p.) or the Cultour (€29,50 p.p). These DIY walking tours lead you passed several food shops in Leeuwarden.
The Tourist Office also offers several printed walking tours, but they're mostly all in Dutch. Although the Historisch Centrum Leeuwarden also made an English version of the highlights of Leeuwarden walk. You can buy it at several locations for €7,50.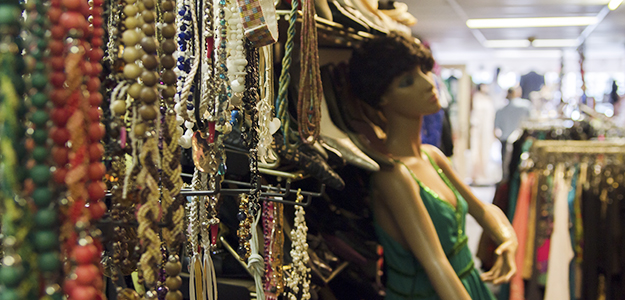 Fun Shopping
In the smaller streets like Nieuwe Oosterstraat, St. Jacobsstraat, Naauw, Vijzelstraat, Kleine Kerkstraat and Kelders, you'll find most of the nice shops. De Pluymgraaff is one of the most colourful shops of Leeuwarden. Kabinett sells Paper & Home gifts with a Scandinavian touch and a vintage twist. At the Lektuurhal you can get your foreign newspapers and magazines from a real Liwwadder. And discover another world at Panta Rei. If you are looking for more nice shops to visit, try to score a pink Funshop Guide or continue to read here.
Visit a museum
Leeuwarden has ten nice and diverse museums. From the big ones like the Fries Museum and the Princessehof, who have both a historical collection and modern art, to the more nostalgic museums like 't Andere Museum en Museum de Grutterswinkel. We wrote about the ten best museums of leeuwarden. Continue to read here.
Download a free map if you visit Leeuwarden!
Go back to All things to see & do in Leeuwarden or continue with the best funshops. Check our various walking tours to discover the city with one of our guides!.