At our walking tours we often get the question what you can do in the surroundings of Leeuwarden. So we made a list of our favourite spots in the surroundings of Leeuwarden.
1. Visit the Eise Eisinga Planetarium in Franeker. 
Eisinga build a planetarium in his living room between 1774-1781 and it's still working! Franeker is ealily visited by bike, but it's also only a 15 minute trainride from Leeuwarden. Location: Eise Eisingastraat 3, Franeker Open: Tue t/m Sat 10:00 – 17:00, Sun 13:00 – 17:00. Between 1 april – 31 october also on Mon 13:00 –17:00.  Admission charges: Adults € 5,25 Children < 13 jaar 4,50.Distance to Leeuwarden (city centre): 18,7 km.
2. Visit the Poptaslot!
This manor can be found just outside Leeuwarden and was build in the 15th Centrury by the Heringa family. In 1687 is was sold to Dr. H. Popta who would live there till is death. Afterwards it was never inhabited. Betwen July and August there are tours from Monday till Saturday at every hour. Location: Slotleane 1, Marssum, Open: Mon-Sat 11:00-17:00 (July-Augustus), Admission charges: Adults € 6,-, Children < 12 Year € 3,-, Distance to Leeuwarden (city centre): 6,3 km.
3. Explore the surroundings by bike!
De 8 van Grou biketour is one of the most beautifull bike tours through the heart of Friesland. You go through the national Park Alde Feanen, cute villages and the widespread medows of Friesland. Furthermore there are 12 ferries you have to use! So do bring some change. The Ferries sail from April until September (check the website for actual times). Depending on where you start, you can cycle 35 till 45 km. If you don't have a bike, you can rent one at Fietsstation 058.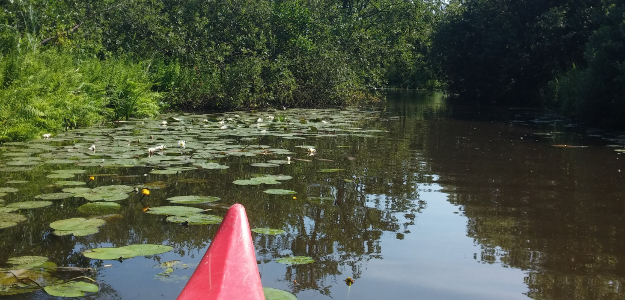 4. Go to the Nationalpark de Alde Feanen
Rent a kajak or a boat and discover the National park the Alde Feanen from the Water. This lowlying peat land is magnificent. You can do several hikes here but also just swim in the lake. If you are travelling in a group, rent a traditional sailing boat called Skutsje at Annage! If you want to reach Earnewoude by public transport, you have to change busses once and use a bus that you have to call one hour in advance! But you can also cycle to Earnewoude. Distance to Leeuwarden city centre: 20 km
5. Frisian Mummies!
The small church of Wiuwert has a few mumies of wiuwert. In the basement of this church you can discover some Mummies, that are already 400 years old. They still don't understand how.  Locatie: De Terp 1, Wiewert, Open: Maandag t/m zaterdag 13:00-16:30 (April t/m oktober). In Juni t/m Augustus is de kerk al vanaf 10:00 uur open. Afstand tot Leeuwarden (centrum): 19 km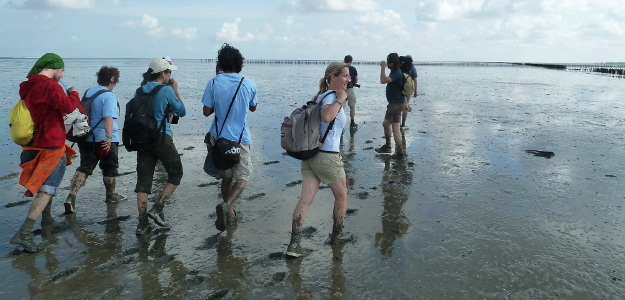 6. Visit the WaddenSea
The WaddenSea is Unesco World Herritage. From Leeuwarden you can easily reach Zwarte Haan, from where you can had a walk on the sea dike. There is no real beach here, only lots of mud. If you want to enjoy beaches, you better visit one of the Island. There are ferries leaving from Harlingen, Holwerd and Lauwersoog. But the most special way to visit the island is to walk over there! This 'Wadlopen' or mudflatwalking is a really unique experience. In Summer you can join a guide to get across.
7. Park Vijversburg
Visit Park vijversbrug just outside of Leeuwarden. This park, dubbed the 'The forrest of Ypey' by locals, was mosly built in the 19th century. But it also has a very large new secion built between 2005 and 2009. You can stroll here and enjoy beautiful gardens. If you are tired of this park, you can walk even further through the adjacent recreation area the Grote and Kleine Wielen. Distance to Leeuwarden city centre: 9 km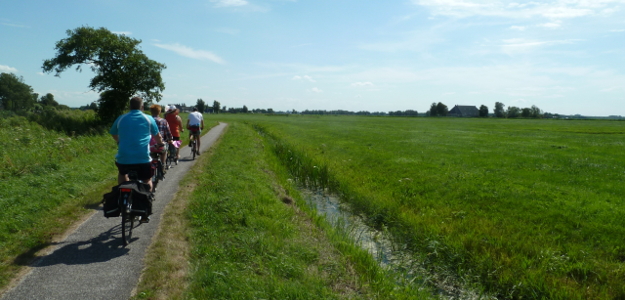 8. A Biketour along mounds and Frisian castles
Cycle a round north of Leeuwarden through Jelsum-Britsum-Wyns (with ferry). This biketour is about 20km long and goes pass the beautifull villages along the river the Dokkumer E and sometimes even through the medows. You also pass some Mansions like the Martenastate in Koarnjum and the Dekema State in Jelsum. In Wyns you have to use a ferry to cross the river. This is also a good place to have a drink at the terrace at Eetcafe de Wynze. You can also find the scheduale of the ferry here. If you don't have a bike, than you can rent one at Fietsstation 058. Distance Wyns to Leeuwarden (centre): 8 km
9. 'Climb' the terp of Hegebeintum
There used to be 1000 mounds in the whole of Friesland. The first inhabitants protected theselfs against high water. Many mounds have been excavated in the 19th centrury because of their fertile soil. Hegebintum is almost 9 meters above sea level, which makes it the highst mound of Friesland. In the visitorcentre you can see some achological founds. Location: Hegebeintum, Open: Sun 12:00-17:00, Mon-Sat 10:00-17:00 (Apr-Oct) Tue-Sat: 10:00-17:00 (Nov-Mar) Distance to Leeuwarden (city centre): 21,8 km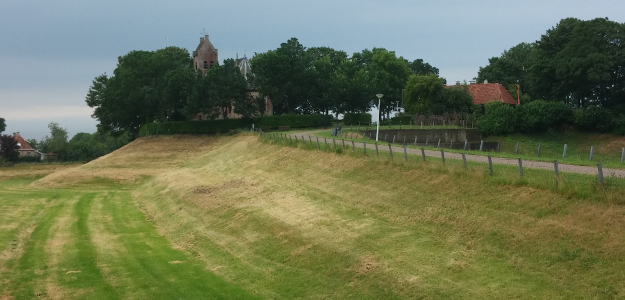 10. The pancake train
The Dutch are very creative when it comes to pancakes. And not only in the topping of the pancakes but also in the place where the pancakes are eaten. For example, in Leeuwarden there is the pancake ship, 20 km further, in Sint Annaparochie there is the pancake church and to top it all off we have the pancake train in Marrum. The disused train station has been lovingly restored. At the entrance you will be greeted by the head of the train station Trijntje and passed on (Trijntje means "little train"). You can then enjoy your pancakes in an old steam train.
Address: Stasjonswei 21, Marrum, opening times: Fridays from 5:00 p.m., Sa and Sun from 12:00 a.m., distance from Leeuwarden center: 18 km
Read more tips about Leeuwarden or discover the city with one of our guides on a tour.