From Februar 9 until February 11th 2023 we will organise special Tours for the LUNA Lightfestival in co-operation with MediaArt Friesland. On Friday at 21:00 there is also an English tour.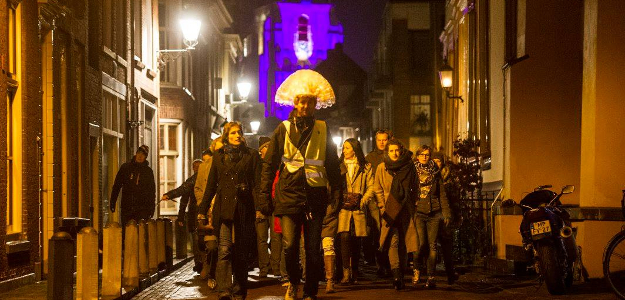 About the Tour
From February 9 until February 11 the 6th edition of the LUNA lightfestival will take place. National and International artists and desigers will show light-art and design, media artist will surprise you with art on unusual locations. Join the enthousiastic guides from A Guide to Leeuwarden and discover the story behind the artist and the light artworks that will brighten up the city during the LUNA festival.
A Little bit different: This year the tours will be a little bit different than the last couple of years. We will walk in small groups of max. 15 persons and you have to buy a ticket beforehand to join. The Guide will give you information about the artworks, but also the guarantee that you don't have to queue to watch the artworks.
Practical information
When
9 until 11th of February. On Friday 10th of February at 21:00 o'Clock there will also be a tour in English
Start
De LUNA Tour starts at the Snekertrekweg 1. Our guides will be waiting for you at the entrance to guide you around. You can easily recognise the guides by the lights on their head.
Costs
€ 12,50 p.p. (excl. servicecosts)
Duration
The tours take about 1,5 hours
Language
Most tours are in Dutch, but on Friday there will also be an English Tour at 21:00. On Saturday our friend Stefan from LUNA will do a tour in Serbian / Macedonian / Croatian.
Maximum Group Size
We will take a max. of 15 people on our tours.