Leeuwarden has many shops. Most of the shops along the Nieuwestad can be found in any Dutch city. But if you're looking for more interesting and unique shops, you should head to the smaller streets. Try to score a free pink Fun Shopping Guide. We've also made a selection of some shops that we think are unique and worth to visit.

The 
Kleine Kerkstraat
is a street full of small and unique shops. The street was elected as the nicest shopping street in the Netherlands twice! Other shops normally get all the attention in this street, but don't forget to have a look inside 
De Stadskapper
! You will enter a door to a different time. The clock in this shop literally stands still. Inside it could be 1890. The walls in this shop are covered with old photo's of the royal family. The sink is really old fashioned and even the phone has an old school ring-tone. But the highlight of the shop is the beautiful old wooden hairdresser's table. It has a fine white marble top and all kinds of small drawers. Hairdresser Jaap Boonstra still tries to use the old attributes.
Location: Kleine Kerkstraat 22Open: Mon – Fri 9:00 – 18:00 Thurs: 9:00 – 21:00, Sat: 9:00-17:00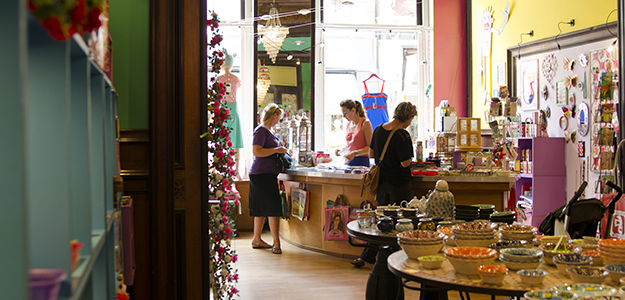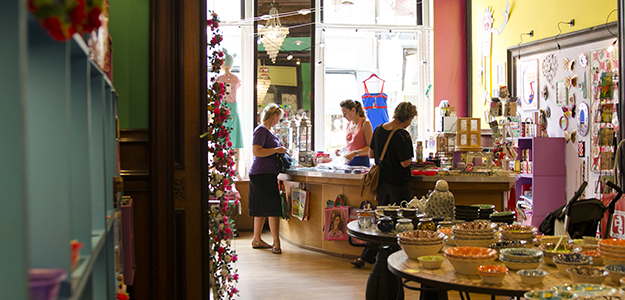 Another beautifull street is the Sint Jacobsstraat, which has unique and diverse shops like:
Ny-Na, probably the most colourful shop in Leeuwarden. The shop is located in a beautiful monumental building. It is run by Nynke and Anna (Ny-Na) and their shop is full of colourful things that will make everyone a little bit happier. Whether that is a wooden Buddha from Asia, Mexican pottery, kitchenware from India or cuddle toys from Fryslân. They also sell colourful retro clothes for women from Who's that Girl and Blutgeschwister. It's full of things that are fun to get as a present or to give away. Location: Sint Jacobsstraat 11, Open: Tue-Wed 12:30-18, Thu-Fri 10:30-18, Sat 10:30-17:00
[pic]
De Oosterstraten are another contender for the nicest shopping street of Leeuwarden. You will probably first encounter the Oude Oosterstraat with unique shops like Liz Boetiek & De Schepperij. If you walk through you'll end up in the Nieuwe Oosterstraat with shops like De Pluymgraaff, Juud & Juul and Priuw, Friese Streekwinkel: Priuw, is the Frisian word for "to taste" and in this shop you can buy all the Frisian products you would like to taste. Priuw is also the perfect place to buy a local present. Location: Nieuwe Oosterstraat 6, Open: Tue – Fri 12:00 – 18:00 and Sat 11:00 – 17:00
Silvia's Sneupwinkel
has always got something for everyone. However, make sure that you have some time on your hands when you visit the shop, because you have to look around carefully between all her stuff, or, as we say in Dutch, you have to do some 'sneupen'. Officers jackets, Asian costumes or beautiful dresses from the eighties, Silvia has an original outfit for every occasion, both new and second-hand and in combination with some special accessories. Her shop is like a museum and this alone makes it worthwhile to take a look inside.
Silvia is a woman like no other. With her mixed German and Leeuwarder accent, her big heart for everything and everyone and her strong character, it feels like she is your mother within seconds. The old, grey and longhaired cat is a special part of the shop and is known by everyone in the neighbourhood.
 Location: Bij de put 10, Open: Mon 13-18, Tue-Fri 11-18, Sat 10-17
De Lektuurhal is the perfect place to get your foreign newspaper. They also sell a wide range of magazines and comics. The shop is owned by Gerard, a real Liwwadder who's always in for a talk. Location: Over de Kelders 10, Open: Mon: 9:00-18:00, Tue, Wed & Fri 8:30-18:00 Thu 8:30-21:00 Sat 8:30 – 17:00
Pic
Panta Rei is a not just a shop. It's a different world on its own. From religious art to art nouveau, from curious to antique, old jewelry and crown chandeliers! It might be a bit overwhelming to discover this shop. They've got over 100 antique lamps and around 150 hats from 1880 to 1950.
Location: Tuinen 13, Open: Tue-Fri 12:00-18:00, Sat 12:00-17:00
Auke Rauwerda is another unique experience. The shop contains of 13 buildings in which you can get lost! It's a maze of compartments and instruments. But if you ask for a certain compartment, staff always seems to be able to find it. In Leeuwarden they say; If Auke doesn't have it, it doesn't exist. Location: Westerplantage 12-14, Open: Mon-Fri 8:00-12:00 & 13:00-18:00, Sat 8:00-12:00 & 13:00-17:00


Emmaus is our favourite 'kringloopwinkel'. This is the Dutch version of a charity shop, op shop or thrift shop. Here, they sell donated second-hand goods. These shops are a good place to find retro furniture, hipster clothes, pottery or accessories for a low price. You can also donate goods that you don't use anymore yourself.
At Emmaus they have an eye for detail. Most kringloopwinkels just stuff the same goods together. But here, they have also created many nice little corners that feel like small living rooms. This way, you get the idea of how a lamp would look in your living room, instead of between all the other lamps.
The other reason that makes Emmaus a bit more special is that all the profit they make is used to transport goods to people who really need it in Eastern Europe. For the people who still needed a third reason, the prices here are also a bit lower. But if you couldn't find what you were looking for, Kringloop Estafette is just around the corner. Location: Edisonstraat 14, Open: 12:00 – 17:00 Tuesdays – Fridays and every last Saturday of the month.
The Selam Market is located somewhat outside the city centre. It's a combination of various shops. Amongst them are a hairdresser, a Surinamese take away, an electronics shop, a Turkish & Eastern European supermarket and a bakery. Don't let this curious get together of shops or it's appearance scare you, because here they sell the best Turkish bread of Leeuwarden.
To buy bread, you have to enter the door next to the beautician. When you enter the room, the warmth of the bread oven comes straight towards you. The bread is spread out over the room and most of the time it will still be warm. Sometimes, you even have to wrap it up yourself. What's good to know is that they are also open on Sundays.
Supermarket Liusja is the Eastern European Supermarket in Leeuwarden. It's run by the Ukrainian shopkeeper Liusja, who loves to show you everything she sells in her shop. She once showed me all the 20(!) types of pickles she sells. Also for Polish Tatra beer, Prjaniki and Patisson you can head to Liusja, also on Sundays. If you are looking for an original present, Liusja sells gift baskets full with eastern European products as well. If you haven't been sold yet, go and see her 4 minute long tv commercial! Location: Noordvliet, Open: Mondays – Sundays
Discus Music & Film is the shop from the utmost friendly Wobbe van Seijen. He has been selling records since the late sixties. And you don't just go here to buy music. He's always got a passionate story to tell or asks questions about what's making you tick. He will talk to you about any subject, for instance religion, philosophy, your way of living or an inspiring talk about music itself. His slogan is: 'Music is the shortest way to God'. He has a particular choice of music and he tries to sell what he likes. His store is well sorted with cheap quality second hand vinyl records in boxes on the floor and new vinyl and cd's at eye level. Besides records, the store sells the best collection of Music and Arthouse films in Leeuwarden. When you enter his store might appear a little messy, but it's a heaven for record collectors. Location: Voorstreek 14, Open: Wed 12:00-18:00, Thu 12:00-21:00, Fri 11:00-18:00, Sat 11:00-17:00
Pictures by Heleen Haijtema and Afke Manshanden. Go back to All things to see & do in Leeuwarden or continue with the best spots for coffee, tea or lunch. Check our various walking tours to discover the city with one of our guides!