Restaurants can be found all around the city centre. Below we show you our favourite restaurants in Leeuwarden. This is where Leeuwarden locals go to for dinner. If you're looking for more restaurants try Iens or TripAdvisor.
If you're looking for high quality Frisian cuisine, you should try one of the next two restaurants.
Eindeloos 


 might not look like this from the outside, but it's one of the best restaurants of Leeuwarden. They don't have a menu here, you can say what you don't like and how many courses you'd like to have. Everything afterwards is a surprise in the hands of chef cook Willem Schaafsma. He likes to work with locally sourced seasonal ingredients. Location: Korfmakersstraat 17, Open: Tue-Sat: 18:00 – late, Tel: 058 2130835
By ús 

 is a must if you're looking for the high quality Frisian cuisine. All meals are made with local and biological products. The vegetables and herbs are from the village garden, fish from the Waddensea, lamb from the Walden and beef from Lauwersland. The restaurant it run by the couple Douwe and Ypie. Douwe is the cook who prepares all these local products on a surprising way. Ypie is making sure everyone is having a good time and has the right wine or beer to complement the dinner. Location: Over de Kelders 24 Open: Wed-Sun 17:00 – 00:00, Tel:058-2158663
If you want to have something else for a change, try the next one.
The Leeuwarden Lounge 

 is an Afghan tapas restaurant. It's not the restaurant where you go for a quick dinner. You go to the Leeuwarden Lounge to forget about time, talk to your friends and relax. They've got a few comfortable lounge sofa's which are perfect for that, but it is also possible to sit on a normal table and chair. Here you can choose between all the different tapas they offer. If you don´t really know what to choose, you can also order their menu and let yourself be surprised. You will get 6 tapas courses for only 15 Euro. You can also head here to lounge with your friends and just have a drink. To finish off in eastern atmosphere's you can order a Sisha. Location: Korfmakersstraat 13, Open: Tue-Wed 17:00-0:00, Thu: 17:00-1:00, Fri-Sat: 17:00-2:00, Sun: 17:00-0:00 Tel: 058 843 4055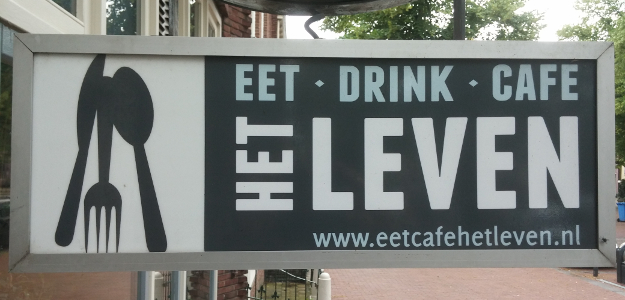 Eetcafé Het Leven 


 is a contemporary restaurant with a cosy atmosphere. The perfect place for a care-free night out. Their menu card is not too extensive, with meat, fish and vegetarian main dishes. They also have a pot-luck menu on weekdays. European food for a good price. And their staff is very friendly and cheerful! Location: Druifstreek 57-59, Open: Mon-Sat: 12:00-late Sun: 14:00-late, Tel: 058-2122 670
Restaurant Wannee 

 is just a short walk from the city and here you can experience the Dutch cuisine. The concept from the restaurant is 80:20. Eighty percent vegetables and 20 percent meat. Eighty percent from Dutch soil and waters and 20 percent international. The restaurant is run by Hotel Management students from Stenden university. The students are still learning, so they do make their little mistakes, but this also has it's charm. Because of this the prices are much lower from what you'd normally pay for a restaurant like this. Location: Rengerslaan 8, Open: Mon-Fri 7:00 – 21:00, Sat-Sun 8:00 – 21:00, Tel: 058 – 30 30 800
Pic
If you're looking for a night out on a budget try one of the next restaurants.
Unia 12 

 might be the smallest restaurant in Leeuwarden. Inside you feel like you are in someone's living room. This makes you feel welcome and at home. The restaurant is run by two guys, Titus and Theo, a cook and waiter. Every week they have a different 'aanschuifmenu' (to sit down to table- menu) for only 12 Euro. This is a 3 courses menu that includes two choices for starters, two choices for mains and the dessert is always a surprise. Don't expect haute cussine but just plain good food that's made with passion. Besides the aanschuifmenu there is also a regular menu card if you like to have more options and you can also go here for lunch. After you had your dinner you are more than welcome to stay for another drink. Location: Uniabuurt 12, Open: Tue: 16:00-23:00, Wed-Sat: 15:00-23:45, Sun: 15:00-23:00, Tel: 06 44357031
't Pannekoekschip

 is an old ship in the museumharbour where you can eat pancakes! This so called Pancakeship is something you can find in almost every Dutch city. Every Dutch kid has been brought up with it. So you'll probably will encounter quite a lot of children here as well. But don't let that stop you, because you should try this Dutch tradition and enjoy the sweet and savoury pancakes. Location: Willemskade 69, Open: Tue from 17:00-late, Wed-Sun 12:00-late, Tel: 058-2120903
Go back to All things to see & do in Leeuwarden or continue with try local beers. Check our various walking tours if you want to discover Leeuwarden personally.