On November 28, 29 en 30  2019 we will organise special Free Tours for the LUNA Lightfestival in co-operation with the MediaArt Festival. These walking tours start at the Westerkerk (former Romein), Bagijnestraat 59. On Friday and Saturday at 21:00 there is also an English tour.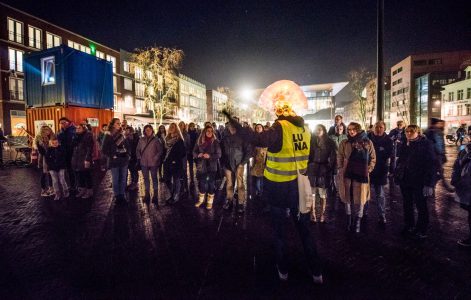 From 28 t/m 30 november 2019 the 3rd edition of the LUNA lightfestival will take place. National and International artists and desigers will show light-art and design, media artist will surprise you with art on unusual locations. Join the enthousiastic guides from A Guide to Leeuwarden and discover the story behind the artist and the light artworks that will brighten up the city during the LUNA festival.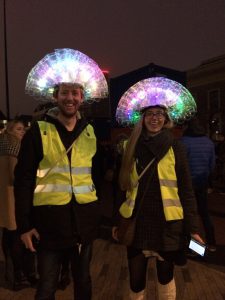 Start: De LUNA Tour starts at the Westerkerk (former romein), Bagijnestraat 59. This is also a place to warm up and drink something before the tour. Our guides will be waiting for you to guide you around. You can easily recognise the guides by the lights on their head. The tours take about 1,5 hours and are mostly in Dutch. On Friday and Saturday at 21:00 there will also be an English tour.
Scheduale: Thursday – Friday – Saturday
17:00 LUNA Tour
18:00 LUNA Tour
19:00 LUNA Tour
19:30 LUNA Tour
20:00 LUNA Tour
20:30 LUNA Tour
21:00 LUNA Tour
21:00 English LUNA Tour (only on Friday and Saturday)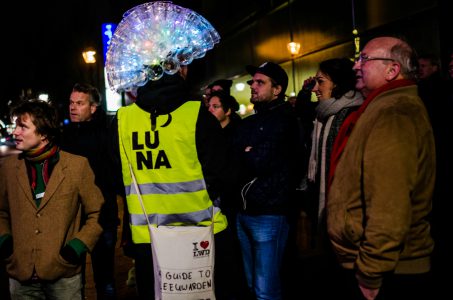 Costs: This is a Free Tour. But if you liked the tour, you can give us a donation according to your own budget. You pay what you think the tour was worth! We appreciate if you sign up by filling in the contact form below.
Would you rather do another tour? Check the other tours we offer! If you've got any questions, read our frequently asked questions or just fill in the contact form and we will get back to you asap.
Questions/Sign up form LUNA Free Tour: