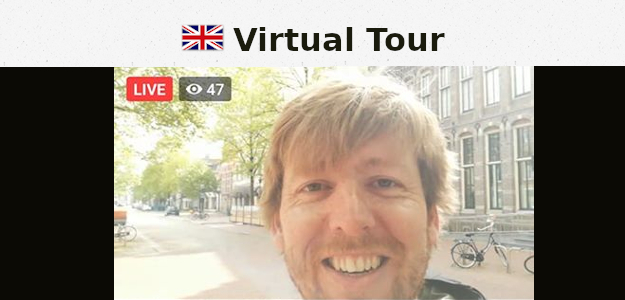 On Sunday 17th of May at 10:00 AM (cest) Henk wil do another virtual tour in Leeuwarden. What? You've never heard of Leeuwarden? Then you should definitely join this English spoken tour about this remarkable and quaint city in the north of the Netherlands. Because without Leeuwarden there would't be any royalty in your country and you wouldn't have any idea what Romans looked like. Furthermore we will show you typical dutch canals, houses from the Dutch golden age and a tower that was almost as famous as Pisa. 
We would have loved to do this tour with you in person. But then Corona came, but thanks to corona we now do virtual tours. Which means you can do a tour through Leeuwarden without leaving your house. So invite all your friend from all over the world to check out this city that should have been the most famous city in the world, but just hasn't been discovered yet. 

Price: This virtual tour costs €3,99. Do you watch with more people or maybe you are just really nice, then you've also got the option to donate more. This is a big support to our guides. All prices are including fees, taxes and 21%VAT. Be Aware that we only sell 50 tickets per tour. You can order a ticket untill a day before the tour starts. 
How to watch? We will broadcast this virtual tour on a private Facebook group. So you do need a Facebook acount. When you buy a ticket, you wil recieve a confirmation e-mail. In there you will get the adres of the private group. Make sure to sign up immidiately. We will aprove everyone who bought a ticket on the day before the tours starts. We will broadcast the tour live at 10:00 AM CEST. If you can't join live, dont worry the tour will be available for the next 24 hours in the private Facebook Group. 
Signing up is realy easy. Just make sure you doublecheck your Facebook username. Without your username we can't add you to the tour. If you have any questions, don't hesitate to send us a message. 
Do have a look at the other virtual tours we offer at the moment or the regular walking tours we normally offer in the city.