Work in progress!  You can (and want) to be there. The Writer's Block Jam will take place at Saturday 13 and Sunday 14 july. On both days we will organise special Street Art Tours. Our guides will take you along the artists in the Klanderij. On both days there will be 1 English tour at 16:00.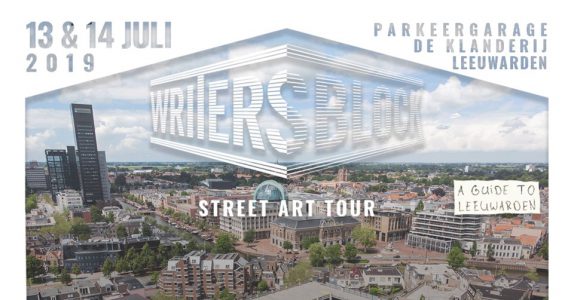 Start: The publcik Writer's Block Jam: Street Art Tours will start on Saturday and Sunday on every hour from 11:00-16:00. All tours will be in Dutch. Except on 16:15 we will do an extra tour in English! The tour starts from the main entrance of the parkinglot: De Klanderij. The tour will take about an hour, and will end on the roof with a cup of coffee. Do make a reservation in time.

The Writer's Block Jam: Street Art Tour is a Free tour. You do not have to pay anything upfront, but you can give the guide a voluntary donation at the end of the tour. You decide what you thought the tour was worth. You can sign-up below.
If it doesn't work out this weekend, you can always book a private Street Art Tour on any other day of the week.
Sign Up Writer's Block Jam: Street Art Tour: 
Because of extra bookings, the English tour will start 15 minutes later at 16:15 on Sunday.