Bars, cafes & pubs can be found all around the city centre. You can find a lot of bars clustered together in the Oude Doelensteeg (also known as pub street), Ruiterskwartier and Grote Hoogstraat. Below we show you our favourite local bars, cafes and pubs in Leeuwarden. These are cafes where you can sit down, relax and have a talk together.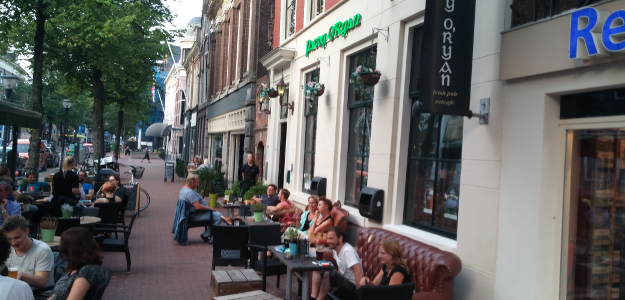 Recommended by Floor Reicher: Paddy O'Ryan 

 is the Irish pub in Leeuwarden. It's a nice place just to relax and have a drink, or listen to some nice music. In the tradition of Irish pubs you can watch sport games all day long, they regularly host good live musicians and every Monday night there is a music quiz and a monthly open mic night for the brave ones among us. Paddy O'Ryan also serve meals, for example fish and chips, a nice burger or a steak. Prices vary, but quite acceptable and big portions. They also serve hot and cold snacks to go with your drink, I can especially recommend the Irish cheese platter. On a nice summers day you can sit down on the terrace in front of the pub. And don't forget to have a look at the ceiling inside, it reveals the history of the building. Location: Tweebaksmarkt 49 Open: Mon-Sun 20:00 –1:00
 If you are looking for a cafe where you can drink various beers you should try the next two cafe's. Because both sell a local beer, we always visit them on our 
Leeuwarden Beer tour
.
Recommended by Henk Leutscher: De Markies 

  is a cafe that is specialized in craft beers. They've got 101 beers on their menu and every week different beers on tap. Because that makes it really hard to choose, they made a menu in which they categorized their beers in 5 categories. But you can off course also ask owners Menno and Michelle to give you some advice. Together with Frans Fillius they've also brewed their own beer called Grutte Pier, which you can of course get here. De Markies is a small and cosy cafe where beer blackboard take up most of the wall space, and even the ceiling. The cafe is located on the opposite side of the theatre de Harmonie. Location: Groot Schavernek 19, Open:  Tue-Sat from 16:00-late
Recommended by Henk Leutscher: Café de Stee 

  is the pub where everybody feels at home. No wonder they called this pub de stee, a Dutch word for your place or your home. The interior has the cozy atmosphere of a brown café and since 2014 they are exclusively serving the Leeuwarden beer called Oldehove. But the real secret to De Stee is Arman. He runs this place together with his sister Ilva. They took the pub over from their parents who started it in 1977. So it's fair to say this is a real family business. And you can feel it in the atmosphere. Arman can make everyone feel noticed and welcome, just like at home. So it's no wonder De Stee has been in the top 100 of best pubs in the Netherlands for years. Location: Stationsweg 8 Open: Mon-Thur 16:00 – 01:00 Fri: 15:00 – 2:00 Sat 16:00-2:00
For those of you for who music is not just something for on the background there are a few cafe's where music really matters:
Recommended by Femke Feddema: Alternative Rockcafé Mukkes 

 is the place to go when you're in the mood for a nice, cold bottle of Hertog Jan and some good quality hard and heavy music. This narrow dark brown café is lit by dimmed lights and a dozen of candles. Every month there are live performances and every Wednesday there is a Jamsession. So, do you want to listen to blues, rock, punk, ska or grindcore? Or are you more into some good, hard metal? Then you should bring a visit to the only hard rock café there is in Leeuwarden. Do not forget to taste the fingerlicking good Frisian dry sausage (=Fryske droge worst). Location: Grote Hoogstraat 26, Open: Sun-Fri 20:00 –3:00 Sat: 16:00-03:00
Other options are Cafe de Spoek and Cafe Scooter's
If you really want to get in touch with local working class of Leeuwarden you should defenitely visit one of the following pubs:
Cafe the Rooster 

  is a typical Dutch cafe with the cosy, casual atmosphere of a brown cafe. The Dutch will call it gezellig. All the tables have a tablecloth, an ashtray (yes, you can smoke here) and sometimes even fresh flowers. Beer is served in bottles and you have a choice between Amstel or Heineken. Owners Agnes and Tamme will make you feel at home. Typical Dutch music is played here and sometimes a local customer will even sing a song for you. An evening at the Rooster is not complete without  a game of spijkerslaan. This is an old fashioned game in which you have to hit a nail in a tree trunk as fast as possible. In the middle of the pub, you will find a big trunk.  In your turn, you are allowed to hit the hammer once. Girls are aloud to hit twice every round. The person who wins has to pay for the nails (0,25 eurocent a piece). The person finishing last will have to pay for the next round of beer. Location: Bij de put 6 Open: Open: Mon – Sun 16:00 – 1:00
Bierhuis Lampie; 'Small and cosy like the living room of a single man on age' is how the local newspaper (LC) once described the atmosphere in this pub. The light above the door, with the Amstel beer logo and the word lampie (small light), gives away that this is not just a regular house. Since the 1920′s, this place has been the local pub for people in the neighbourhood. In those years, it was the place for rough sailors and labourers who liked to drink and sometimes even got paid in the pub. Those times are long gone, but some of those customers are still there. It makes Bierhuis Lampie one of those local pubs that you just have to visit once. You can find it just outside the canals that surround the inner city. Location: Oostersingel 32, Open: Monday – Saturday 16:00 – 0:00
Go back to All things to See & Do in Leeuwarden or check our various walking tours to discover the city with one of our guides!